Post by Leon Scott Kennedy on Aug 24, 2019 2:55:27 GMT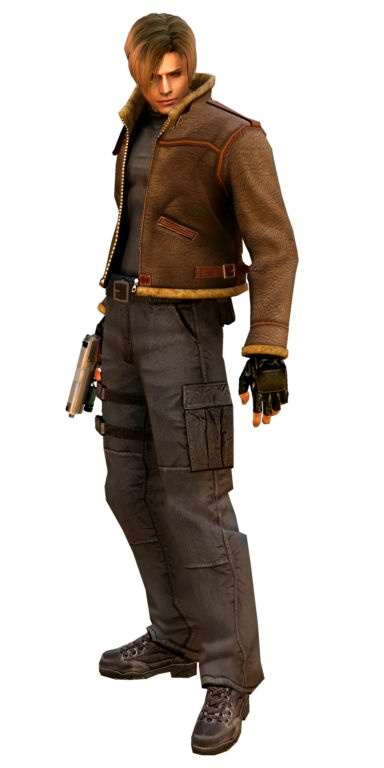 Name: Leon Kennedy
Faction: Raccoon City Police (Formly)
Significance: Hero
Species: Human
Age: 21
Gender: Male
Nationality/ Homeworld: America
Appearance: His height is about 180cm and 70.2kg in weight, he has shoulder length blonde hair, he usually will wear a blue RPD clothing with a harness around his arms to place his guns in, he wears black gloves, sometimes he can be seen wearing a brown jacket. His eyes are blue, his skin is white.
Special Abilities: He's pretty good with any kind of weapon that he can get his hands on.
Weaknesses: While he does have normal weaknesses like gun shots and stab wounds, he can die if he's exposed to the different types of Zombie Virus, however if he has been injected with some sort of creature that can convert him, he does have a certain amout of time to find an Antidote before the convertion is completed.
Weapons and Equipment: A Handgun, a couple of Grenades and a shotgun, he also carries a can of first aid and a few herbs.
Biography: A reguar policeman that worked for the Raccoon City Police Department, when he goes to the gas station to check things out, he notices a Zombie having it's dinner as he takes a shot at it, pretty soon he runs into Claire Redfield and learns that she was searching for her brother, the duo end up in the city and separated when Leon's car is destroyed, Leon worried about Claire heads back to the Police Department where he discovers that not only Zombies have already infected most of his co-workers, but his friend Marvin was already affected by the time he got there.
Before the infection took place, Marvin helped Leon get his hands on clues to getting out of the police station through a secret escape route, but after, Marvin hasn't been the same since, while Leon made his way through the Police Station, he was attacked by the mysterious Mr. X, and a mysterious creature that was later confirmed to be Dr. William Birkin who infected himself with the only G sample he had despite his wife's chagrin. with help and betrayal of Ada Wong, He along with Claire was able to put an end to Dr. Birkin.
Leon, Claire and Sherry started walking away as the sun began to rise.
Vehicle: Used to have a RPD Police car, but after the events of Resident Evil 2/2 Remake, he just either rents a car or gets someone to take him somewhere.